[ Mikka ] Trying the Hydro-Therapeutics Treatment (HTT) at IDS Aesthetics to unclog my pores
It's been almost two months now since I've been using IDS Skincare products, and I admit that I do see a difference in my skin, especially when it comes to its brightness and reduced dullness. I was looking for a selfie on my phone, but this was the only one I could find (shared this with a friend out of boredom, haha!). You can read about how I kickstarted my IDS Skincare journey here.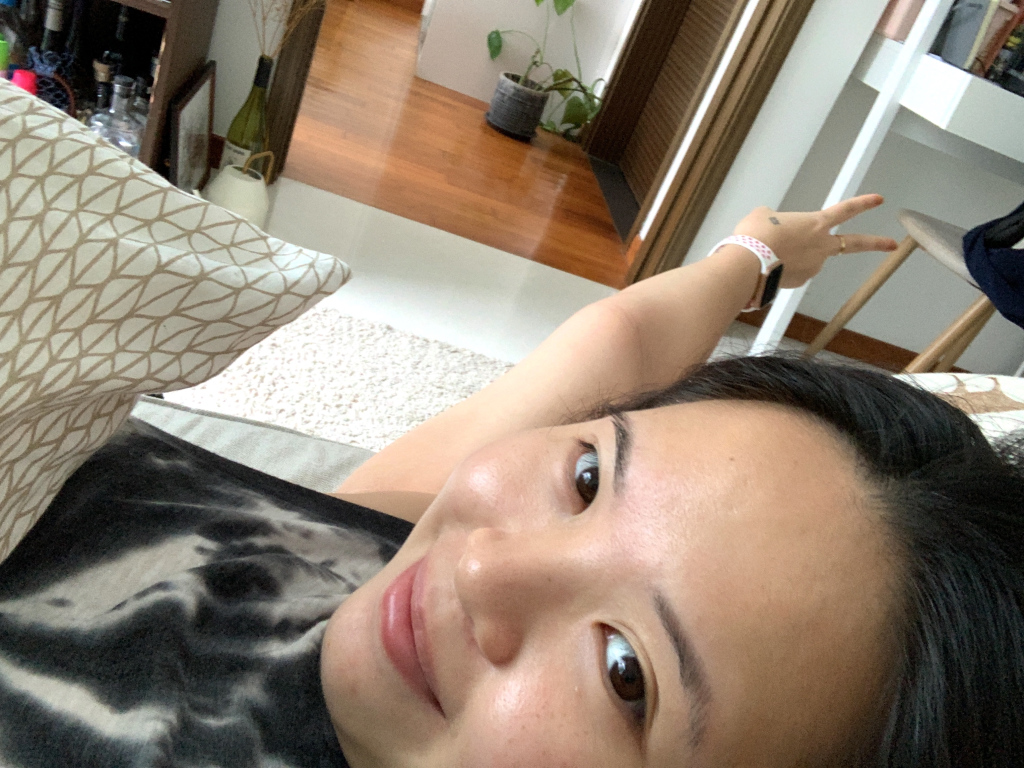 Out of all the IDS Skincare products, I must say, my favorite has to be the S2 Non-tinted Sunscreen SPF50+ PA+++ . I've had my fair share of sunscreen that either has a white cast or leaves a greasy feel (especially under make-up). But this one from IDS Skincare absorbs super fast, is not greasy at all, and leaves your face matte. I don't think I can ever use a different sunscreen brand again!
Work has been busier than usual, so I scheduled my IDS Skincare Laser Treatment early last March. It's been a while since I had a facial, so I was really excited. After a consultation, Dr. Ian recommended the Hydro-Therapeutics Treatment, or HTT for short, which helps reverse signs of sun damage on the skin. His recommendation came from my sunspots since my face is frequently exposed to sunlight (I've started wearing a hat, too!). Apart from that, I've had a few breakouts on my cheeks due to stress.
The Hydro-Therapeutics Treatment also leaves the skin bright and clean as it targets dead skin cells, clogged pores, and blackheads. This award-winning 60-minute facial treatment also reverses signs of ageing by prompting cellular regeneration, increasing collagen, and reducing the appearance of wrinkles and fine lines.
IDS has always maintained a gold standard with their cleanliness and safety measures.
After double cleansing my face to ensure my skin was impurity-free, the beautician, Linn, checked my skin to see where to focus on. I've always complained about the left side of my face being most prone to hormonal breakouts, and I had a juicy pimple sprouting. She told me that she would be focusing on my blackheads and extracting my clogged pores.
After cleansing, it was time to exfoliate! I did a microdermabrasion that used a device with a vacuum suction to exfoliate my face and remove the dead skin cells. Really appreciated how gentle Linn was with the entire process! Apart from exfoliating, pores are also loosened up and softened for easy extraction of whiteheads and blackheads. Extraction is my least favorite part of any facial, so this really helped me relax. An ultrasonic cleanser that penetrates Vitamin C was then used afterwards to increase skin brightness further remove any dead skin cells.
Next was the extraction! Again, not my favorite part of any facial, but needed to ensure my face is clean and rid of blackheads, whiteheads, and clogged pores.
After the entire process, I was given a soothing mask to calm my face down. Felt really good and reassuring knowing that my face was in a better, cleaner state from when I entered the clinic!
Moisturizer and Sunscreen were applied to my face after masking for 15 minutes. Felt so refreshed and rejuvenated!
My face after the whole treatment! Happy to say that my face was glowing! A bit of redness from the extractions lingered, but my acne flattened out as well as my other trouble areas and pimple patches. Blackheads on my nose were extracted, and my face just felt really clean afterwards. I highly recommend it.
Read more about the Hydro-Therapeutics Treatment here!
IDS Clinic has two outlets located at International Building and at Novena Specialist Center. I went to the one at Novena.
Again, this is a sponsored post by IDS Skincare but all opinions expressed are my own. Thanks, IDS!
You can visit http://www.idsskincare.com for more about their products or http://www.idsclinic.com/ if you wish to know more about your skin!